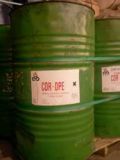 Product Description
COR-DPE is a formulated protuct containing a mixture of amines and fatty acids, in a solvent carrier solvent, and used as a general drilling inhibitor, for prevention of corrosion to drill string.
Typical Physical Properties
Appearance: Dark amber liquid
Specific Gravity @ 20° C: 0.84 to 0.92 gr/cm3
Viscosity @ 20° C: Less than 50 Cps
Flash Point: ~ 100° F
Solubility: Oil soluble, water dispersible
Pour Point: Less than 3° C
Product Application Details
COR DPE is formulated to be used as a general purpose drilling inhibitor. The normal treatment rate of COR DPE is 0.5 to 1.0% of inhibitor based up on the volume of fluid to be inhibited.
COR DPE can be added to the drilling fluid in the mud pit, or spayed or dipped on to the drill string, when it is being run.
Dilution with equal parts of diesel are recommended, in order to make the inhibitor manageable. COR DPE will protect against carbon dioxide and hydrogen sulphide. In general the doseage rate of COR DPE , should be increased as the mud weight increases, or the drill solids in the mud increase.
Product Handling Details
Avoid eye contact and prolonged or repeated skin contact.
In case of eye contact, hold the eye lid open and flush with water for at least 15 minutes. Seek medical aid.
In case of skin contact, remove all contaminated clothing and wash the affected area with soap and water. Launder all clothing before reuse.
Product Packing Details
COR-D.P.E. is supplied in US gallon drums.